Advantages of the Fdrilling System
One of the major problems in manufacturing engineering is how to join sheet metal, tubing or thin walled profiles in a simple, efficient and cost-effective way. Many different solutions are available such as weld nuts and threaded inserts, which are used to increase the number of threads.
The drawbacks to these techniques are: material removal, more production steps, adding external elements, costs, quality, ....
The Thermal Drilling System produces a bushing formed from the parent material itself. This bushing increases the area available for tapping.
So instead of cutting the wall, we use the material itself to form a stronger connection.
Advantages of the Fdrilling System are :
- Very fast process
- Stronger joints
- Cost effective
- No special machines needed
- Small investment
- High quality
- No additional components
- Less production steps
- Clean workspace (Chipless)
FDrilling & Tapping

Method
The rotating drill point is brought into contact with the material surface. Pressure is applied and heat is generated through friction. As the material heats up it softens and the drill is pushed through creating a hole and a bush simultaneously. This gives additional support as a bearing surface or for a thread. The bush formed will give three to four times the original material thickness in most cases.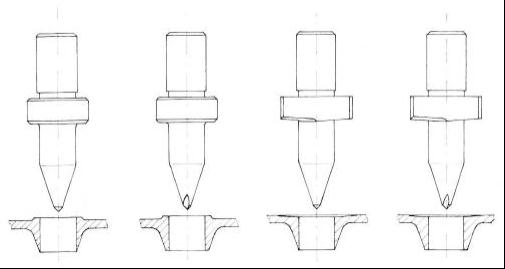 Fdrilling a thermal drilling process for producing a bush from the parent metal that gives additional support for a bearing surface for a thread.

Ftapping removes none of the parent metal which enables you to tap into thin wall materials with a range of M3 – M12 threads.