Fdrill:Chip-Free Drilling Process
Chip-Free Drilling Process Creates Holes And Bushings
This chip-free drilling technique can create both a hole and support bushing in thin-walled parts in one machining operation.
Once a bushing is formed, a roll-form tap can be used to thread the bushing. This eliminates the need to weld or rivet a nut to a thin-walled workpiece.

Rather than removing material, this alternate drilling technique uses friction to heat the workpiece material and allow the drill to form both a hole and bushing in one operation.
Drilling holes in thin-walled parts isn't hugely challenging. The process might require some means of workpiece support to counteract the pressure of the drill as it begins to penetrate the material. Depending on the application, the hole may also need to be deburred or chamfered.
Oftentimes, though, these holes must accept a bearing or fastener for component assembly. With conventional drilling, the hole's thickness equals that of the workpiece, which likely isn't suitable for threading or to provide sufficient support for a bearing sleeve. For that reason, it is often necessary to weld or rivet a nut to the workpiece, or install a special insert into the hole. The Fdrill eliminates the need for such devices by using a chip-free drilling technique that creates both a hole and support bushing in one machining operation.
The Fdrill concept uses a conical drill that contacts material with high axial (downward) pressure and rotational speed. The frictional heat the drill generates softens the material, making it malleable enough for the drill to pierce the workpiece and form a collar and bushing around the hole. The total thickness of the collar (created on the top of the surface) and bushing (located under the surface) can be up to three times the workpiece thickness. This increased thickness offers support for a bearing or can be tapped with a similar Flowtap operation. The process works for wall thicknesses from 0.02 to 0.5 inch in mild and stainless steels, titanium, aluminum, copper, brass and various other malleable materials. Common applications include auto exhaust, steering and frame components; pressure and water tanks; pipes and tubing; HVAC manifolds; and metal furniture.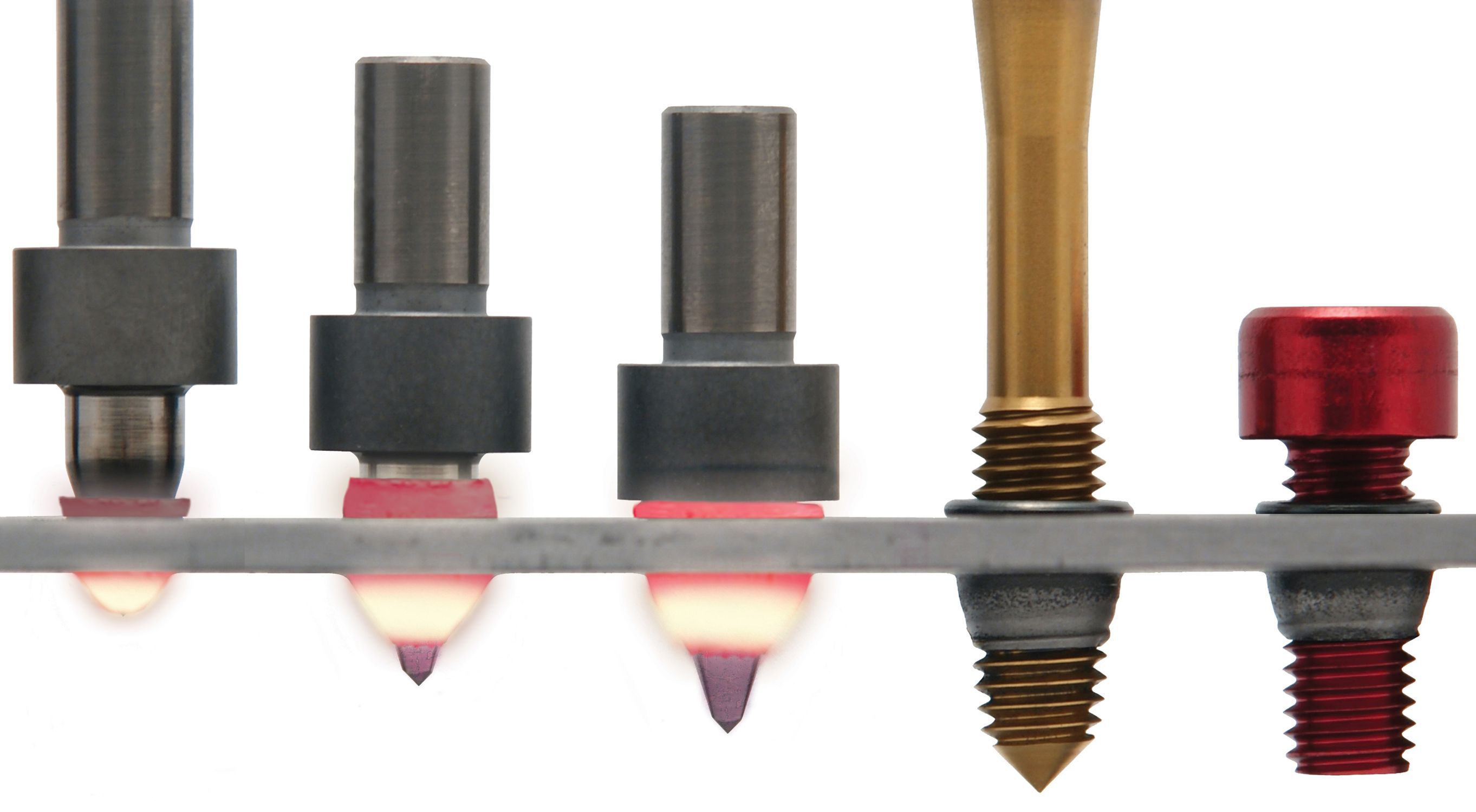 The tungsten carbide Fdrills are available in diameters from 0.06 to 2 inches and can hold 0.0005-inch repeatability. They can be used on standard drilling machines or CNC machine tools, operating at power levels between 1.5 to 3.5 kW and spindle speeds from 1,000 to 3,500 rpm. The cutting parameters for each application will vary depending on hole diameter and workpiece material and thickness. To optimize hole quality and precision, lubrication must be applied prior to each operation. This can be done manually or via an automatic spraying system. Typical cycle times range from 2 to 6 seconds. Fdrill collet toolholders are available with a #2 and #3 Morse Taper shank or a 20-mm straight cylindrical shank.
For applications requiring a smooth joining surface or a chamfered hole, flat Fdrill versions can be used to cut the collar that is formed on the surface of the workpiece. Fluted-tip Fdrills are recommended for coated materials because the tip helps remove the coating at the start of the drilling operation. Fluted Fdrills also help prevent the deformation of thin workpieces that can occur because of the drill's downward pressure. This distortion can also be avoided by drilling a small starter hole.
Ftap roll forming taps can be used to create various standard, metric and NPT thread profiles. Because they form the threads rather than cut them, a compressed structure is created. This structure offers high pull-out strength and torque specifications.